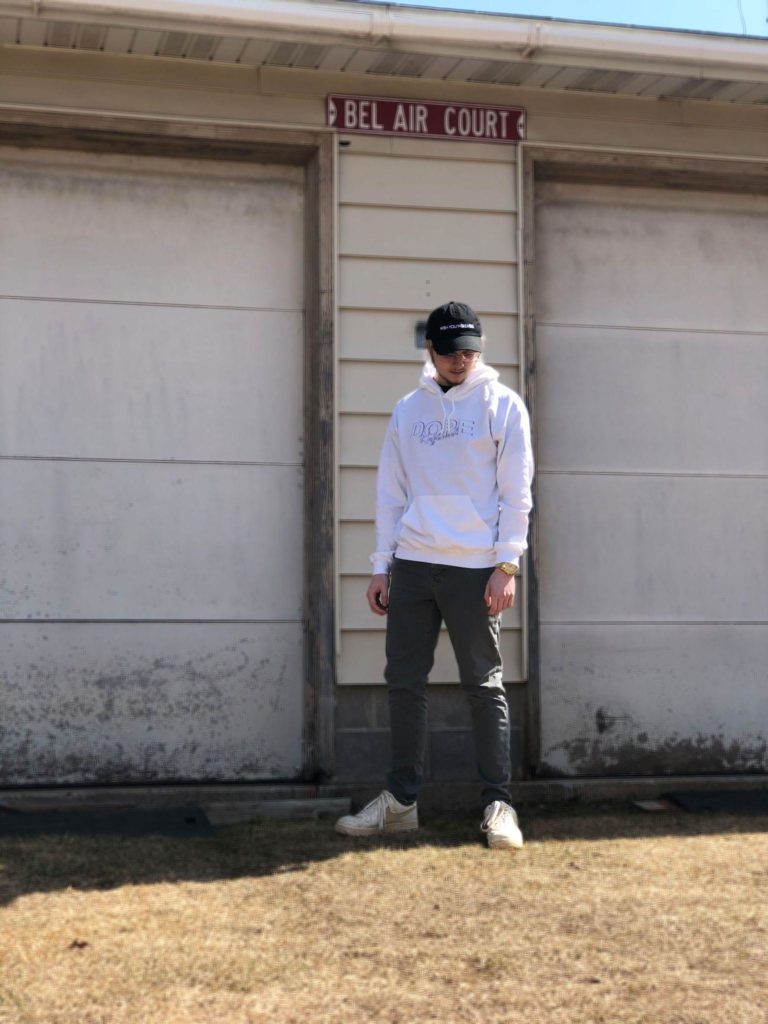 IV Reed graduated in the class of 2020 from Bessemer, Michigan's AD Johnston High School. He had formed plans the previous year to go to college at Western Michigan University but when he didn't win the scholarship contest and music was starting to "click", he decided to unenroll before he got to step foot in a college classroom. Isaac now works a full time job at his local grocery store, while making music from his grandma's basement. Though his life is far from
lavish, he still feels that he has a lot to show the world of music, inspired by Mac Miller, Tyler, The Creator, Brockhampton, Kanye West, Kendrick Lamar, and more.
IV Reed took time from his schedule to answer some questions in this exclusive interview…
You are from Upper Michigan…Ontonagon to be exact. How has being from there influenced your music, and has it been a help or a hindrance?
Being from Ontonagon in the Upper Peninsula of Michigan has affected my music in a
way that makes it it's own in an authentic and homegrown feeling way to me. Having no
direct geographical influences has led me to have a more diverse set of inspirations that
contribute to my style.
Tell us about the song "Machine." What is the idea behind it, and what inspired you to write it?
The idea came from working my job as a cashier at a grocery store and additionally,
tik-tok which has exposed me to some pretty wild conspiracy stuff which I love to add
into my writing themes and style. I think that it gives way to a deeper, more connected
story.
Have you always been politically involved or is this a recent development?
I'd say I've never been very involved with politics, out of both ignorance and apathy. But
nowadays I actually hold some opinions and have some legitimate thoughts about how
this country should be run. I'm by no means educated, but I would say that I offer a
somewhat unique, edgy viewpoint.
Tell us about your Grandmother, whom you currently live with. How has she inspired you?
My grandma Connie is actually kind of famous where I'm from. She's a very hardworking
woman that has worked her whole life up until recently, first at a paper mill, then at her
own ice cream/coffee shop. She inspires me to be more patient in life and more
accepting of hardships that I must face. I didn't always get along with my parents the
best so living with her has been a breath of fresh air.
Who are your musical influences?
My greatest musical influences would have to be Brockhampton, Tyler, The Creator,
Denzel Curry, and Kendrick Lamar. I'm greatly inspired by all of their lyrics, deliveries,
flows, and productions. I also take from Playboi Carti in beat selection.
How has the COVID pandemic affected your life, personally and professionally?
COVID-19 totally destroyed my life, not to be like, super dramatic. My depression
overtook my existence and I went pretty crazy, really. I won't go into detail about it but I
was actually institutionalized more than a couple times in the past year. All as a direct
result of quarantine and the isolation that I went through during it. I did a lot of damage to
my life.
What are your plans for the rest of 2021?
I currently have plans for a really great track called Kevin Abstract. Honestly, I don't have
any grand plans coming after that. Is this where I decide to drop a new EP this year?
Absolutely, why not. 11/11/21 sounds good to me.
Any shout outs you'd like to give?
I'd love to give a shout out to my music partner and big homie Kris Carver who makes
dope music, my life long super close friend Gabalablin who live streams and is the only
other current member of my collective "Greenland" which is a
rap/production/fashion/content group, and lastly my sister and great friends Tad and
Nick. Thank you for the interview.
https://distrokid.com/hyperfollow/ivreed/machine
https://soundcloud.com/ivreed/machine-mixed-and-mastered